Although archaeological remains survive throughout the county, those of the urban areas are some of the least well-known and most likely to be affected by development. English Heritage (now Historic England) provided funding to Somerset County Council through its Extensive Urban Survey (EUS) programme to compile reports on the current and former urban areas of the county: a total of 45 areas.
The reports were compiled in 1994-98, and new evidence will have been discovered, but the reports still provide useful background to any study of the towns. See the Somerset Historic Environment Record for recent discoveries.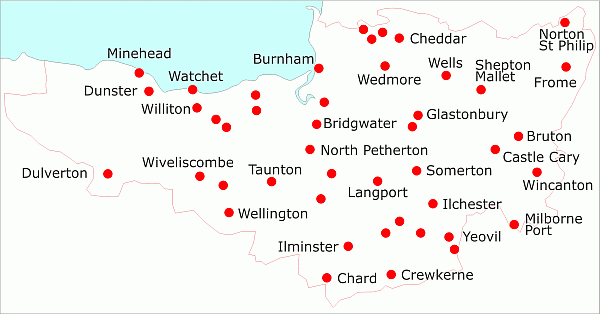 The reports provide information on the growth (and decline) of the towns through time and identify, where possible, the location of historic features.
Not all the towns are currently urban in character and not all the present towns have a long history but all were included in the survey. The towns range from Ilchester with its late prehistoric and Roman origins, through medieval centres (such as Taunton, Bridgwater and Wells), failed medieval developments (like Crowcombe or Frog Lane, Langport), to towns which developed in the nineteenth century such as Burnham-on-Sea.
The location of the towns is shown on the map. Click on them or the list below for more information where you will also be able to download a copy of the full report.